Jetson and INNER Join team up with vocalist Bronwen Lewis, who featured on The Voice.
The deep house original is backed up with two remixes. The first is from Frankfurt born, Berlin based House DJ & Producer Martin Roth who has 400+ releases so far and nominated three times at the Beatport Annual Awards for his productions and remixes. Here he's produced a deep house builder,staying true to the original.
The 2nd remix is from Product London favourites Falscher Bart. Also Berlin based, these guys have provided us with a spine tingling techno remix.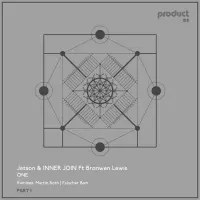 Tracks;
01. Jetson & INNER JOIN Ft Bronwen Lewis – One (Original Mix)
02. Jetson & INNER JOIN Ft Bronwen Lewis – One (Martin Roth Remix)
03. Jetson & INNER JOIN Ft Bronwen Lewis – One (Falscher Bart Remix)
Buy now on;
Listen to the tracks on the Product London Soundcloud player: